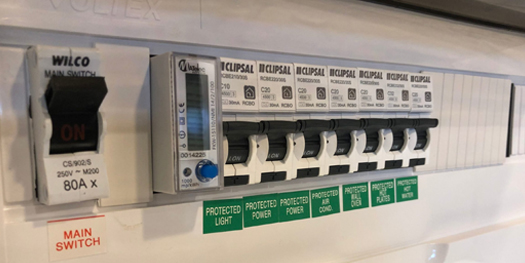 Switchboard Upgrades Werribee
A safety switch will instantly turn off the power in case there's an electrical problem or short due to faulty wiring or appliances. Safety switches are mandatory in new homes. For older homes built before safety switches were required it is a relatively small investment compared to the cost of rebuilding your house due to an electrical fire the switch could have prevented.
Switchboard Main Upgrades Werribee
A safety switch is an important device within the main electrical switchboard of a building. Its main and crucial function is to stop electricity supply when it detects an electrical fault. Therefore, a Safety Switch Installation into a new or existing home that does not have one is mandatory. As they prevent the potential for electrical shock/ electrocution, electric fires and even death, these simple devices should be installed within all types of buildings. Cortal Electrical has been offering all of Werribee with quality safety switch installations.
When is a Switchboard Upgrade Required?
New switchboards can save you money on insurance premiums. Some insurance underwriters give discounts on insured premises with an upgraded switchboard because it minimises the risk of fire. Some insurance underwriters decline insurance coverage due to an outdated switchboard. Also, they may deny approval of damage claims caused by fire and related to an obsolete switchboard.
Some of the main reasons you might need to upgrade your switchboard, including:
To lower the risk of fire and shock because newer switchboards have built-in safety switches
If your switchboard is older, the chances are higher that it will overload with new-age appliances
Older styles are most likely not compliant with current regulations and often not conducive to using new smart meters
If you are switching to solar power options, some systems require a newer switchboard to functionfirst.
Older properties used porcelain fuses to protect against fire. However, they don't protect humans from electrical leakages.
Safety Switch Installation Werribee
It's a good thing you've already realised the importance of safety switches and RCDs. However, only licensed electricians should do the installation to ensure reliability, safety and correct function. After all, the main goal is safety and you want to be sure that professionals handle it. You've already played a huge role in providing the good things for yourself and family. Now it's time to let us take care of the electrical.
Cortal Electrical can install safety switches on all your new installations and/or upgrade your existing switchboards. We've already honed our skills and we've mastered every step, which is why the entire installation process will look smooth and efficient. It's one of those small actions that can yield amazing results because of the resulting safety and peace of mind you would gain.